If you're a shopper from Cincinnati, Covington, or Newport looking for a new SUV, the Ford Explorer and Chevy Traverse are two models that you need to carefully consider. These models will more than meet the needs of most drivers thanks to advanced technology features and dependable performance. Comparing the 2018 Ford Explorer and the Chevy Traverse directly should make it easier to choose the SUV that will be perfect for you and your family.
Top Engine Options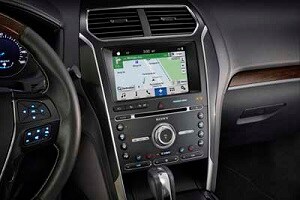 When trying to choose between two first-class vehicles, regardless of their class, the best way to make your decision is by comparing top engine power. You need to be certain you're picking a vehicle with a level of engine performance making driving easy, and both the Traverse and the Explorer offer enticing engine options.
If you select the Chevrolet Traverse, your top available engine will be a 3.6L V6 engine that provides 310 horsepower and 266 lb-ft of torque, which should satisfy most drivers. Power hungry motorists, however, should pick the Ford Explorer, which is available with a 3.5L V6 engine that outputs 365 horsepower and 350 lb-ft of torque. With the proper equipment, both of these SUVs can tow up to 5,000 pounds.
Checking Technology
Modern automotive consumers prefer automobiles that provide innovative technology, and in this area, both the Explorer and the Traverse make superb choices. In both of these vehicles, you'll have great technology options, including available Wi-Fi hotspots. The 2018 Traverse offers Android Auto™ and Apple CarPlay™ connectivity, and the Explorer provides a SYNC® 3 infotainment system.
For music lovers, the better SUV by far is the 2018 Explorer. With this vehicle, you'll have access to a Sony Premium Audio system that will make it easy for you to play your favorite music on a road trip. This system features 12 top-notch speakers and technology that reduces distortion and improves sound clarity.
SUV Safety Systems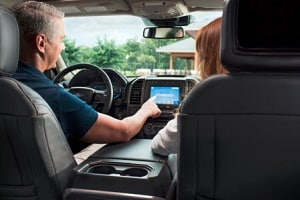 Safety is the area where both the Ford Explorer and Chevy Traverse deliver big benefits. Whichever model you purchase, everyone in your vehicle will be protected by advanced safety systems. For example, both of these SUVs are available with Adaptive Cruise Control, which works to maintain your desired speed and can make adjustments. Thus, you stay a safe distance from other automobiles.
Both of these models are also available with cross-traffic alert systems preventing you from backing into another automobile and a lane keeping system that will alert you if your SUV is drifting. Only in the Explorer, however, will you have rain-sensing wipers that will activate when they detect moisture so that you always have a clear view of the road.
Take a Test Drive at Fuller Ford
Although the match-up was close, the Ford Explorer provide itself to be the best SUV on the road, offering more engine power and better technology than the Chevy Traverse. Learn more about the top features of the 2018 Ford Explorer by taking this SUV for a test drive today at Fuller Ford. We are your top destination for high-quality Ford vehicles, and our team would love to put you on the road in Newport, Cincinnati, and Covington in an affordable automobile.