When it comes to safety and performance, every car offers different features. You'll find some that clearly prioritize one over the other, but they all share one important aspect that no vehicle can go without. No matter what you're driving through the Cincinnati, Newport, and Covington areas, you need quality brakes. 
A wide variety of brakes are available, but their importance cannot be understated. That's why it's absolutely essential that you make sure your brakes are in top condition. If you feel that your brakes aren't performing as they should, you'll need to get them fixed as soon as possible at your nearest Ford Service Center. You may wonder, Where can I find quality brake repair near me? For service you can count on, the service center at Fuller Ford has got you covered.
How Do Brakes Work?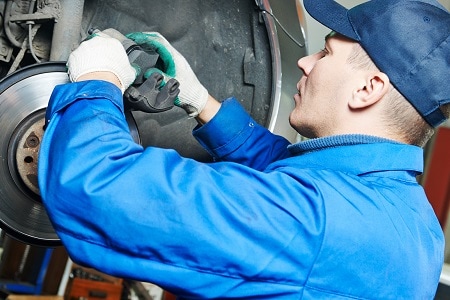 When you're planning for brake repair, it's helpful to know the basics about how your brakes work. Not all brake repair requires the repair or replacement of all 
Ford parts
, so you don't have to cover the costs of your entire brake system every time you get service. As a whole, your brakes function to get rid of the kinetic energy generated when your car moves, but there are a few different parts used to accomplish that.
The part you'll be dealing with the most in your brake repairs is the brake pad. This is the piece that is pressed against the rotor in order to create friction. That friction wears down the pad faster than anything else, so you'll replace that the most. The surface it presses down on is known as the rotor or disc, and it's usually sturdy enough to last years. The last primary part is the caliper, which actually presses the pad into the rotor. When these work together, the friction created gets rid of all that pesky kinetic energy.
Common Signs You Need Brake Repair
Waiting until it's too late to get brake repair can have disastrous results. Fortunately, you can watch out for early warning signs. The most obvious sign is your brake warning light. This handy dashboard light may not be all that specific, but it can alert you to a brake problem in general. All modern Ford models will be equipped with this kind of warning system by default.
One of the other most common signs is squeaking brakes. It's important to note that squeaky brakes don't necessarily indicate a problem. They function more as a warning that there's about to be a problem. Most brake pads are designed to squeak once they get worn down about three quarters of the way. When you hear this, you know it's time to get them replaced. 
Our Service Center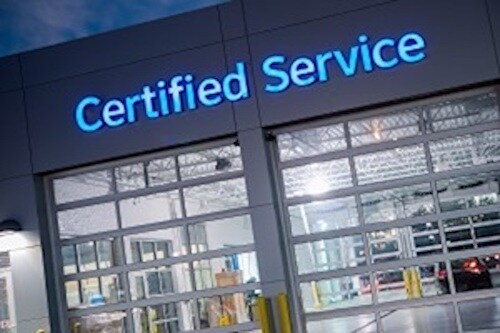 Whatever your brake problems may be, the expert technicians at our service center are equipped to take care of the problem. We've outfitted our service center with all the latest auto-repair technology, so you can always count on a quick and quality service, no matter how extensive your brake repairs are. 
Working with us also entitles you to various discounts and specials. We frequently rotate coupons, so be sure to check our website regularly to take advantage of everything we offer. We're also happy to accommodate quite a few different Ford extended service plans, so you won't be able to find service like this anywhere else.
Visit Us for Brake Repair near Me
The next time you wonder, Where can I find quality brake repair near me? look no further than Fuller Ford's service center. We strive to provide premier customer service in all facets of our business, including our service center, so you can always expect the respect you deserve. Contact us to schedule your service appointment today!