If you're looking for a 3-row SUV to take your drives around Newport and Covington over the edge, you're in good hands with either the 2018 Ford Explorer or Toyota Highlander.
Still, the team at Fuller Ford wanted to discover which of these contenders has more to offer our Cincinnati area customers, so we put them to the test in this Ford Explorer vs. Toyota Highlander review. 
Ford Explorer vs Toyota Highlander: Performance Specs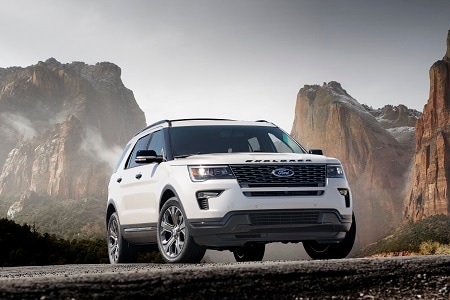 When it comes to performance, both the Explorer and Highlander offer a 295-horsepower engine, for drivers who want an extra kick. However, the Ford Explorer makes this 3.5L V6 engine standard, while the Highlander requires an upgrade to the top-tier engine for this kind of power. 
The Ford Explorer also offers an engine upgrade to a 3.5L EcoBoost® V6 engine that generates 365 horsepower and 350 lb-ft of torque. This is well above the capabilities of the 3.5L V6 engine in the Highlander, which produces just 263 lb-ft of torque, in addition to the 295-horsepower output we mentioned before.
With less power under the hood, Highlander drivers may find their driving experience somewhat lacking. 
Interior Dimensions
If you're looking to bring a lot of gear along for your next camping trip or family outing, you'll probably like that the Ford Explorer and Toyota Highlander both provide over 80 cubic feet of total cargo space when the second and third rows are folded flat. 
However, if you want to bring a full car of people, you'll find that the Explorer has a bit more to offer here. With all the seats upright, this SUV provides 21 cubic feet of trunk space, compared to just 13.8 cubic feet in the Highlander. That's a difference of seven cubic feet; two golf bags or two suitcases. 
Without this extra cargo space, passengers in the Highlander may have to leave some items behind when on their weekend excursions. 
Explorer vs Highlander: Driver-Assist Features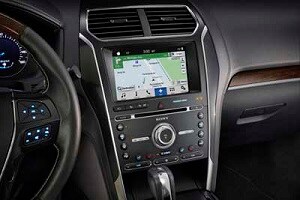 As you make your way towards your destination, both the Ford Explorer and Toyota Highlander will help you get there safely with their available driver-assist features. 
For example, they both make a forward collision monitor feature available that looks out for hazards up ahead and prompts you to stop if a potential collision is detected. 
Then, when you get to your destination, they both have available front and rear parking sensors that let you know if you're getting too close to another object while parking the car.
The Ford Explorer also makes an Enhanced Active Park Assist feature available, which helps you identify and maneuver into a parallel or perpendicular parking space. All you have to do is follow the prompts to shift, accelerate, and brake, while you let the Ford Edge take care of steering.
The Toyota Highlander doesn't offer a feature like this, so drivers may have more trouble parking on a busy city street.
Ford Explorer vs Toyota Highlander: Test Drive the Winner
After comparing the 2018 Ford Explorer vs. Toyota Highlander, we determined that the Explorer has more to offer our Cincinnati area customers. Browse our online showroom for your perfect fit now.
If you want to get behind the wheel of this SUV and take a spin around the Newport and Covington areas, come down to Fuller Ford and we'll make it happen. Schedule your Ford Explorer test drive today!